Affordable & Reliable Oil Change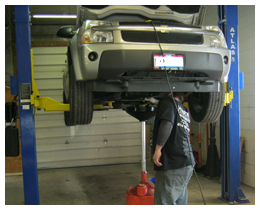 LOOKING FOR A GREAT PLACE FOR AN OIL CHANGE?
Harris Automotive has the best ongoing deals for an oil change in Westerville Ohio. We know sometimes it can be tough to get your vehicle in for an oil change. We provide  a quick in and out service that gets you on your way fast. For the fastest oil change in Westerville Ohio just call ahead and make an appointment. We'll have the lift open and waiting for you.
Harris Automotive knows vehicles inside an out. Not only do you get an oil change in record time but you also get a complimentary 30 pt inspection where we look at everything you can imagine from tires to shocks and struts, brake pads rotors, we look at everything while your car is up in the air on the lift and if we see anything we'll bring it to your attention. For example if we note that your brake pads are 75% worn we'll let you know that your pads are 75% worn and will need replacing soon…just things like that we'll bring to your attention.
EXPERIENCE A HARRIS AUTOMOTIVE OIL CHANGE
Harris Automotive focuses relentlessly on total customer satisfaction. Regular oil changes are recommended for long trouble free engine performance. Some customers get their oil changed once a month while some others every two months and this interval really depends on your driving habits, amount of miles driven, type of oil used and vehicle service. The cheapest insurance you can possibly get toward extended reliability is from frequent oil changes. No need to go anywhere else for an oil change in Westerville Ohio. When oil turns black its due for a change out. New oil is a light brownish color. Black oil is dirty oil. The reason it turns black is due to the internal combustion process when the engine fires. Soot and by products of combustion end up in the oil and while solid particulates are filtered out by the oil filter the oil still remains "chemically dirty". Chemically dirty oil is bad for the engines bearings and internals as the oil has reduced lubrication properties. Easy way to check for black oil…pull the dip stick out and if the oil on the dip stick is black its time to change the oil.
We Are A Full Service Repair Shop